Construction Reporting & Analytics Software
Data & Insights

at Your Fingertips

Having a clear view into what's going on with your projects is critical to your success. With Kahua, you can harness your project data to keep stakeholders informed and take action when necessary — all with the goal of delivering superior project outcomes.
Construction Business Intelligence
Learn how to Bring Construction Project Data Together for Actionable Insights
Power BI Construction Software
Improve Construction Data Analytics
Kahua's built-in analytics, powered by Microsoft Power BI, gives you the ability to access data effectively with powerful dashboards readily available both out-of-the-box and with flexible configurations for your business needs.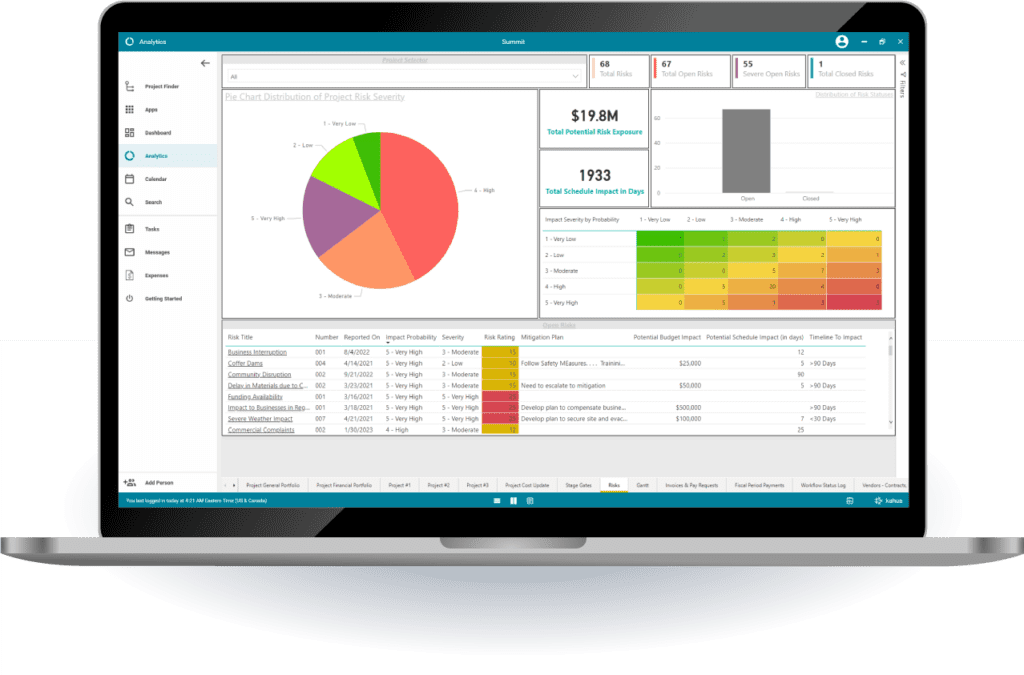 Construction Risk Management Dashboard
Monitor Construction Project Information in Real Time
Risk dashboards highlight project risks on the job and call out potential exposures in terms of days and money. See a listing of these risks in terms of probabilities and severities.
Construction Projects Analytics Dashboard
Track Key Project Information
Project-oriented dashboards focus on a single project with details and feedback on a particular job. Quickly access information on project risk, milestone details, view of the costs, stage-gate information and more. Color-coded indicators draw attention if there are major issues that need immediate attention.
Program & Project Level Construction Data
Get Hierarchical Reporting
Leverage Kahua's powerful hierarchical structure to view data at any level of your capital programs or projects. You can roll up individual project data to view program-level dashboards and reports, or drill down from program views to see project-specific cost and process data.
Read More About Construction Reporting Software